We are fast coming to the end of our special Author Spotlights for 2023, our 30th Anniversary year. Our penultimate spotlight shines on Marjorie Beaucage, one of our newest authors, who joined the Kegedonce Press family with her debut book, leave some for the birds: movements for justice, published in May of this year.
Marjorie is a Two-Spirit Métis Auntie, filmmaker, art-ivist and educator, a land protector and a water walker. Born in Vassar, Manitoba, to a large Métis family, Marjorie's life's work has been about creating social change, working to give people the tools for creating possibilities and right relations. She has been a Grandmother for Walking With Our Sisters; the Elder for OUT Saskatoon; and the Elder-In-Residence for the University of Saskatchewan Student Union. As a current Board Member of Chokecherry Studios, she is giving back to future art-ivists as they stand up for themselves and their community through creating art, music, writing.
Her book is dedicated "to the future ancestors and dreamers." In both her life and her writing, Marjorie shares her wisdom and the experience she has gained from her life-long dedication to activism, to making the world a better place.
The title of her book comes from a memory of when she was a young girl, picking blueberries with her grandmother. "We were out in the blueberry patch. It was velvet blue, you're seven years old, you want to grab and eat. But I always feel her hand on me and hear her saying, 'Remember where they come from. And leave some for the birds.'"
As Marjorie told Julia Peterson in an interview with the Saskatoon Star Phoenix, "That's the foundation of my justice-seeking, right there: To be in right relation and not be greedy, and to take care of the land. That has been my foundation for everything else ever since – reciprocity, and gratitude, and giving back, and not taking all, and questioning why some have more and some have less. My values come from the land."
Marjorie recently told IN Magazine about the inspiration and origins of what eventually became leave some for the birds: "I was accepted in a 6 week Equal Justice residency at the Santa Fe Art Institute where I decided to go through my journals. I saved some of the stories I wanted to pass on [in the book] and some of the covers which hold their own stories and transformed them into a quilt pattern collage [below] to honour my mother, aunties and grandmothers who also transformed clothing that no longer could be worn into quilts. So on my 70th birthday, I went to a sweat ceremony and burnt my journals. It was a very liberating experience to let everything go to the fire. I collected my ashes and used them in my collages and made giveaway bundles for my book launch ceremony. A total affirmation of my life."
Marjorie participates in an annual Water Walk for the South Saskatchewan River. In the summer of 2023, she took part in several culture camps supporting Two Spirit people, including one called OUT on the Land. Currently, she is working on creating spiritual landscapes with Northern youth. Since her book was released, she has been busy attending numerous events and festivals performing readings from her book. Over the winter, she plans to hibernate and work on new writing.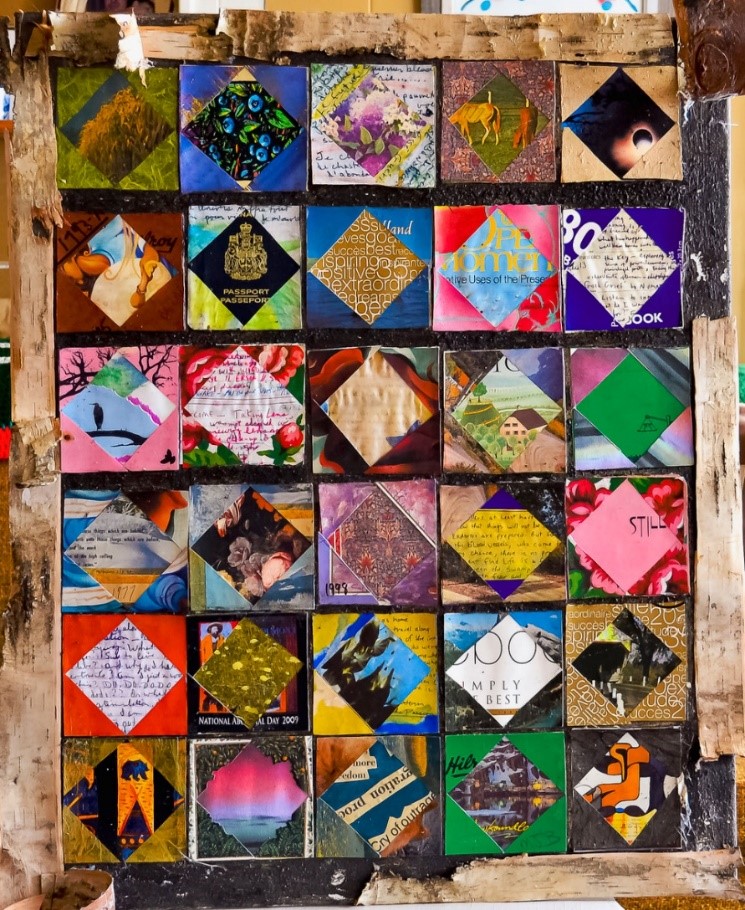 Quilt pattern collage by Marjorie Beaucage.