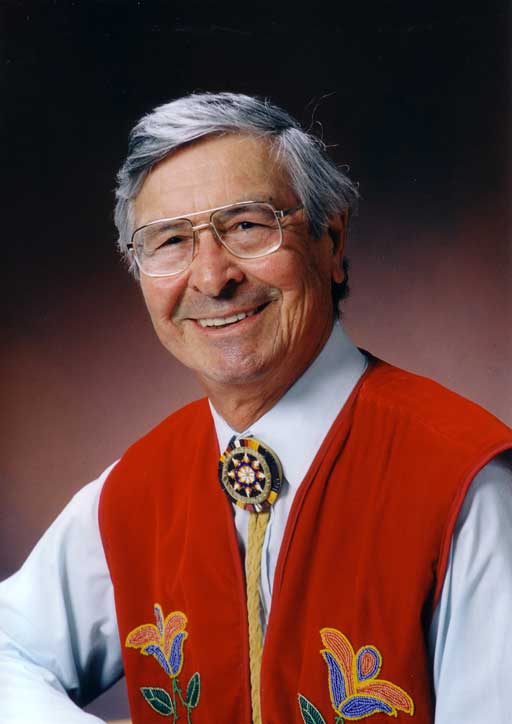 Basil Johnston
It is with great sadness and respect that Kegedonce Press says a fond "baamaapii gwabmin" to Basil H. Johnston, our dear friend, renowned author, celebrated storyteller, tireless promoter of the Anishinaabe language, and much loved member of the Kegedonce Press family as he makes his journey across the path of stars. It has been our great joy and honour to have worked with Basil over the past years to share his work with the public. Words cannot adequately express our gratitude for Basil's generosity, humour, straightforwardness, and laughter. We hold many wonderful memories of him both personally and professionally and know that our lives, and the lives of his many friends and readers, were enriched for having known him. Basil, we will miss you deeply. K'zaugin and chi megwetch for the tremendous legacy you have left us all. Until we meet again… The Kegedonce Press Family - Sept. 10, 2015

Back in 1968 a grade 5 student, after studying Indians in depth for five weeks, asked Basil Johnston, a visitor to the school, "Is that all there is to Indians, Sir?"Since that time Basil Johnston wrote over 15 books in English and 5 in Ojibway to show that there is much more to North American life than social organization, hunting and fishing, food preparation, clothing, dwellings and transportation. Basil Johnston was an esteemed Anishinaabe writer, storyteller, language teacher and scholar. He was born in Wasauksing First Nation in 1929, and was a member of the Chippewas of Nawash Unceded First Nation. Johnston was awarded the Order of Ontario, three honourary doctorates, and the 2013 OAC Aboriginal Arts Award.

Among the books that Basil wrote are Ojibway Heritage, Indian School Days, The Manitous and Crazy Dave. In addition he has written numerous articles that have been published in newspapers, anthologies and periodicals. But the key to understanding culture is language and to provide this key, Basil Johnston has developed audio programs on cassette and CD. For his work, he has received the Order of Ontario and Honourary Doctorates from the University of Toronto and Laurentian University.

In June 2013, Basil Johnston was awarded the Aboriginal Arts Award from the Ontario Arts Council. Read about it here.
---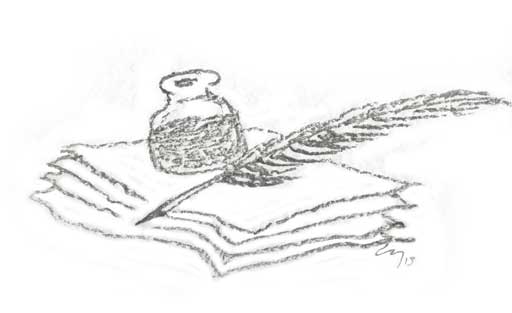 Leo Yerxa
Leo Yerxa was an award-winning writer, illustrator and artist. His first book, Last Leaf First Snowflake to Fall, was a finalist for the Governor General's Award for Illustration and Ancient Thunder won the Governor General's Award and many other accolades. Leo was born on the Little Eagle Reserve in northern Ontario. He studied graphic arts at Algonquin College in Ottawa, fine arts at the University of Waterloo, and has worked with Tom Hill, a respected figure in Indigenous art in Canada. Leo was the first Indigenous person in Canada to design coins for the Royal Canadian Mint incorporating Indigenous design elements and First Nations athletes (Series IV 1975 Olympic Coins, Montreal Olympics 1976). A set of his murals can be seen at the Kay-Nah-Chi-Wah-Nung Historical Centre on the Rainy River First Nations National Historic Site in Ontario. Leo provided illustrations for Halfling Spring by Joanne Arnott, and Spirit Horses by Al Hunter. He passed away in 2017.
---
Sharron Proulx-Turner
On behalf of the entire Kegedonce Press family we send our heartfelt condolences to Sharron's loved ones. Sharron will always be close in our hearts. Travel well with the ancestors. - Kegedonce Press
Sharron Proulx-Turner was a member of the Métis Nation of Alberta. Originally from the Ottawa river valley, Sharron was from Mohawk, Wyandat, Algonquin, Ojibwe, Mi'kmaw, French and Irish ancestry. Sharron was a two-spirit nokomis, mom, writer and community worker. Where the Rivers Join (1995), a memoir (Beckylane), was a finalist for the Edna Staebler Award for creative non-fiction, and what the auntys say (2002), was a finalist for the Gerald Lampert Prize for poetry.
Sharron's work appeared in several anthologies, including Oxford Anthology of Canadian Native Literature in English, Crisp Blue Edges, Tales from Moccasin Avenue, Double Lives: Writing and Motherhood, and in literary journals, including Gatherings, Yellow Medicine Review and West Coast Line. Sharron had two more recent books, a mixed-genre-historical-fiction called, she walks for days/ inside a thousand eyes/ a two-spirit story (2008), and a book of dedication poems called she is reading her blanket with her hands (2008).
---